Puarose Publishing is proud to announce their newest children's book:
Miss Sabrina's
Learn the Hail Mary As You Color the Rosary
A guide for children ages 6 - 9 and up!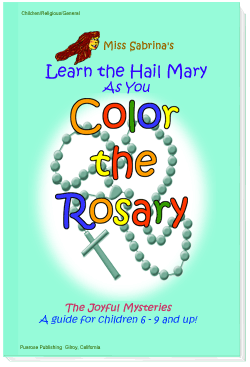 Children love to hear stories and love to draw them. The Hail Mary contains a beautiful story, the same story contained in the first joyful mysteries of the rosary. What could be more natural than learning them together?
A true step-by-step book for the young, Miss Sabrina greets them on every page with only one step, keeps directions short, and has them color, draw and pray along the way.
This fun and innovative approach to learning the Hail Mary and the rosary together was created by a first grade catechist. The caricature that she originally drew to guide her students through review lessons on the web, now brings to you in book form the techniques that have them asking, "Can we color the rosary again today, Miss Sabrina?"
Geared for the primary grades, but easily adapted to all ages, this 6" X 9" book contains 65 pages of hands on learning followed by 26 pages of rosary prayers, summaries of all the mysteries including the Luminous Mysteries, example drawings and a glossary of difficult words in prayers.
Miss Sabrina's Learn the Hail Mary As You Color the Rosary comes with an online supplement, Rosary Fun, which contains interactive rosary games, prayers, stories and coloring pages from Miss Sabrina's popular class website. Click on the link to Learn the Sign of the Cross, or see if you can Find the Our Father Beads!
Visit Miss Sabrina's Class Website to see where the fun began. Guests are welcome!

Publication date to be announced soon.
Add your name to our pre-orders mailing list!
Free shipping on all pre-orders.